Six Moon Designs Deschutes Plus
For 2015 Six Moon Designs updated the Wild Oasis by increasing it's coverage by an additional 9 square feet and creating the new Deschutes Plus.
The Deschutes Plus is a lean, mean, no frills, down and dirty shelter for ultralight hikers on the move. It packs so small and light it might literally get lost in your pack. Yet it is large enough for a comfortable night's rest without the claustrophobia of a small tarp. With its full 360 degree protection there's no need to carry an additional bivy.
The Deschutes Plus' No-See-Um skirt perimeter eliminates the need to carry a bug net to keep away those pesky mosquitoes. The skirt's generous 18 inch width allows you flexibility in setting up the shelter at different heights.
The Deschutes Plus' zippered entry makes getting in and out a breeze. It sets up using a single trekking pole or optional Carbon Fiber pole. This single pole pyramid design ensures that you'll be safe and comfortable regardless of weather conditions.

Features
• Zippered Entry
• Easy Tension Adjustment
• Full 18" No-See-Um Skirt allows you to setup the shelter at different height and still have excellent bug protection.
• High Vent provides for moisture to escape to minimize condensation.
• Single Pole Setup with hexagonal shape provides maximum protection at minimum weight
• Easy Setup
Specifications:
General
Seasons - 3
Sleeps - 1
Ships With - Tent, Stuff Sack, Guylines
Pack Size - 15" X 6"
Weight - 16 oz. - 450g
Stakes - 6
Colors - Gray
Usage - Ultralight Backpacking
Materials
Canopy - 30D Silicon Nylon
Netting - Ultralight 20D No-See-Um
Zipper - #3 YKK
Type - Tarp
Frame - Single Pole
Entry - Side Entry
Coverage - 44 ft2 - 4 m2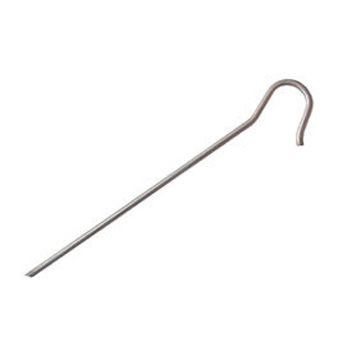 Light, Strong, Compact Titanium Tent Stakes
Lighten up any tent with these 6" stakes that are just 1/5 oz. each!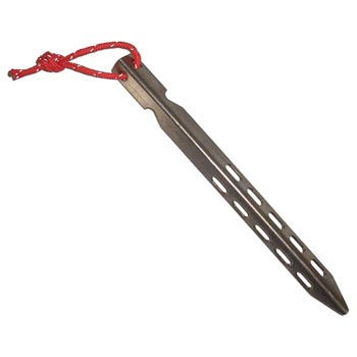 Vargo Titanium 6.25 Inch Tent Stakes
If you need a little more holding power, these rugged titanium stakes are just .35 oz. each. These multi-season stakes have excellent holding power in both soil and snow. Remarkably strong for the light weight.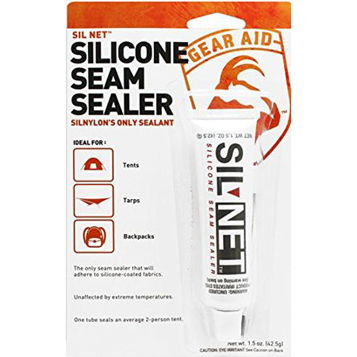 McNett Sil-Net Silicone Seam Sealant
100% Silicone seam sealant formulated for sealing seams on tent or other outdoor products that are coated with silicone-based products. 1.5 oz. tube with brush.